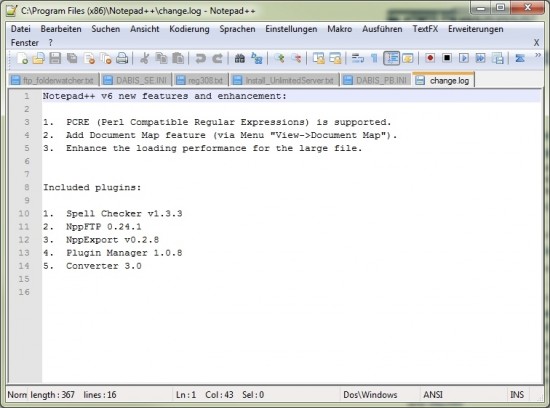 Es gibt Tools ohne die ich mir mein (Computer)-Leben nicht mehr vorstellen könnte. Notepad++ gehört dazu.
Der Editor für Windows kann mit ungefähr jeder Art von Daten umgehen. Egal ob PHP, XML oder C++, das Tool schluckt alles und ist daher mein unverzichtbarer Editor geworden.
PCRE (Perl Compatible Regular Expressions) is supported.
Add Document Map feature (via Menu "View->Document Map").
Enhance the loading performance for the large file.
Die Freeware ist nun in Version 6 erschienen. Trotz dem grossen Versionssprung sind die Änderungen nicht sehr tiefgreifend. Vor allem Pearl Benutzer bekommen ein paar neue Features. Daneben wurde das laden grosser Files verbessert.
Wenn euch Notepad++ so nützlich ist wie mir, spendiert doch dem Entwickler ein paar Euros für seine Mühe.
[ad#Google_Adsense_Media]