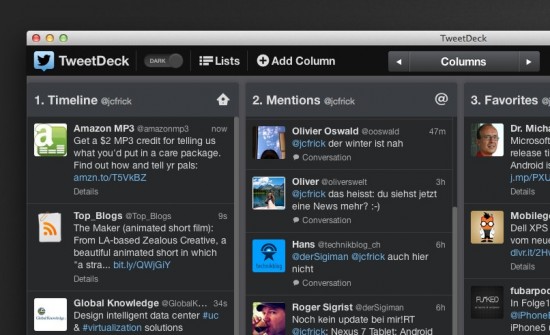 TweetDeck ist schon lange ein professioneller Twitter Client, der seit jeher scheisse aussieht 😉
Seit Twitter den Dienst aufgekauft hat ging es mit den Funktionen auf und ab. Nun hat man sich bei Twitter mal wieder die Mühe gemacht und ein Update für TweetDeck veröffentlicht.
Auf den ersten Blick fällt das erneuerte Design auf. Man kann nun zum Beispiel mit einem Klick zwischen dem schwarzen Standard Theme und einem weissen Layout umschalten:
Neue Funktionen von Version 2.0.0

• Redesigned UI
• Improved clarity of columns and Tweets
• New option to choose the app colour – dark or light
• Ability to change font size under Settings > General
• Redesigned & improved profile panel, including profile header images
• Unfollow, Block & Report spam actions now remove tweets from all columns
• Popup windows can now be repositioned using drag handle in top-left corner
• Repeated retweets are no longer displayed in Timeline columns
• Reduced the volume of the notification sound
• Tweet actions now available on Tweets in the Add Column menu
• $Tags are now linkified
• Fixed some display issues with Growl notifications
• Plus lots of other fixes and smaller updates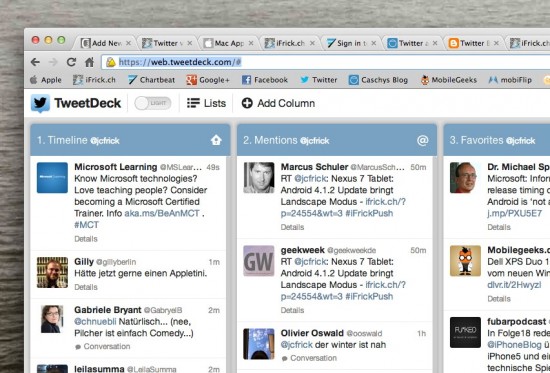 Neben der OS X App wurde auch die Windows und die Web Variante neu gemacht. Auch wenn ich mich auf die finale Version von Tweetbot für Mac freue, ist TweetDeck durch das Update wieder einiges interessanter geworden.
[ad#Google_Adsense_Media]