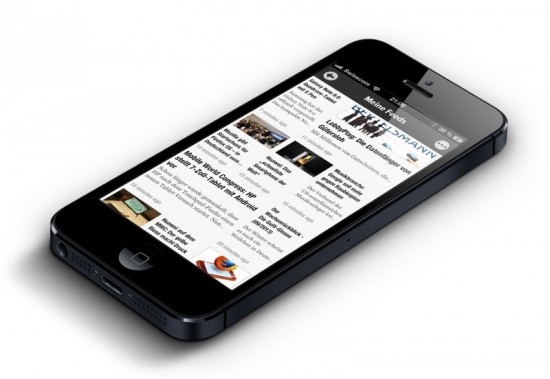 RSS Reader sind eines der wichtigsten Tools für News Junkies wie ich einer bin.
Sowohl unter Android wie auch für die Apple Welt gibt es massenweise gute Apps. Einer der besten RSS Reader für das iPhone und das iPad (Universal App) ist gerade kostenlos erhältlich:
Newsify bietet alles was ein moderner RSS Reader so können sollte:
FEATURES
▪ Sync your Google Reader reading list and starred items (Google Reader account required – for free signup visit reader.google.com)
▪ Newspaper-like article list and traditional table list available
▪ Add and edit subscriptions
▪ Offline reading including image caching
▪ Night mode (enable in settings)
▪ Article search (pull down subscription list for search bar)
▪ Full screen article reading (tap text to toggle)
▪ Full screen original web page browser (two finger tap to toggle)
▪ Pull to move between articles
▪ Pull to refresh article list
▪ Show only unread subscriptions and folders or all
▪ Show all articles or just unread
▪ Sort by newest or oldest first
▪ Mark previous & all as read
▪ Landscape view
▪ Fully customizable sync with Google Reader
▪ Automatically sync on start
▪ Share articles with many popular services: Facebook, Twitter, Google+, Delicious, Evernote, Instapaper, Pinboard, Pocket, Readability and Tumblr
▪ Email articles or links from the app, copy links or open the original web page in the app or in Safari
Besonders praktisch finde ich die Möglichkeit die Links entweder in einer Magazin Ansicht oder dann in der klassischen Listen Darstellung anzeigen lassen zu können.
Absoluter Download Tipp für alle welche ihre RSS Links gepflegt lesen möchten.