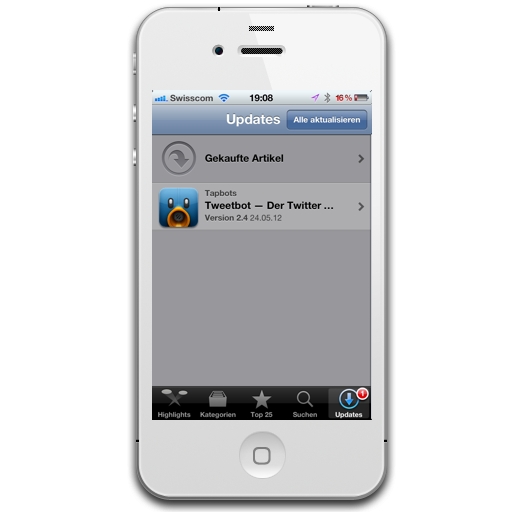 Ihr wisst es inzwischen, für mich gibts schon länger nur noch einen Twitter Client: Tweetbot für iOS.
Diese App hat nun ein Update auf Version 2.4 bekommen. Die neuen Funktionen sind wie immer zahlreich:
What's New In This Version:
– Updated Search view
– Nearby tweets added with ability to change location
– Location-based keyword searches
– Improved search box for efficiency.
– Trends and People categories moved to browse section
– Added Top Tweets in browse section
– Can  now change trends location from the search view
– Double-tap search tab to open search with keyboard
– Keyword mute filters (with regex option and ability to mute mentions as well)
– Offline Favorite and Read Later support (for you subway passengers)
– Basic smart quote support when composing (ex: quotes become smart quotes, … becomes an ellipsis, and — becomes an em dash)
– When viewing an image full screen on the iPad you can hold down on it for options
– List views now show one line of a list or profile description on the iPad
– Top tweets show up in search results (marked by silver star violator)
– Dismiss web and map views on the iPad with a 2-finger swipe down gesture.
– Can now swipe to the right on profile views to go back one level
– Improved find location speed and accuracy
– Sending to pinboard now marks items as unread
– Muting a client automatically mutes mentions from that client as well
– Fixed iPad bug where you couldn't take profile photos with the camera
– Fixed missing tweet sound when publishing a tweet.
– Various other bug fixes
Spannend ist die neue Suche und die Möglichkeit auch ohne Internet Verbindung seine Favoriten anzuschauen.
[ad#Google_Adsense_Media]