[simple_series title="Microsoft Surface Tablet"]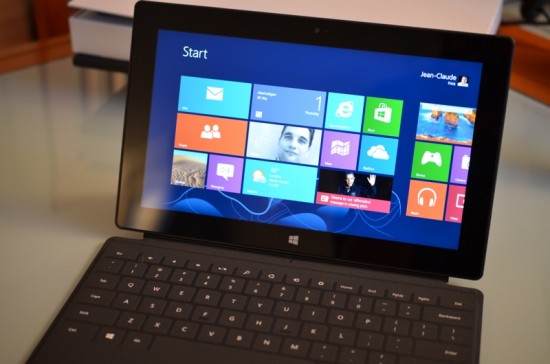 Selten habe ich mich so sehr auf ein Gadget gefreut wie auf das Microsoft Surface Tablet, welches heute der nette DHL Mann gebracht hat. Bisher sieht es in Europa mit der Auslieferung des neuesten Microsoft Gadgets eher mau aus, weshalb ich mir das Teil direkt in den USA geholt habe.
So kann ich das neue Tablet solange testen wie ich möchte, ohne von Microsofts PR Menschen gestört und beobachtet zu werden ,-)
Inzwischen teste ich fast im Wochenrhythmus Android Tablets hier. Spannend aber selten etwas wirklich neues. Anders beim Surface Tablet.
Es ist nicht nur das erste Tablet welches Microsoft selber baut, sondern auch das erste mit Windows RT einer angepassten Variante von Windows 8 welche auf ARM Chips läuft.
Damit versucht Microsoft im Tablet Bereich Eindruck zu machen. Deshalb wurde auch gleichzeitig Windows 8, Windows RT sowie Windows Phone 8 gestartet. Dieses Ökosystem aus neuen Windows Versionen soll dazu führen, dass Redmond wieder erfolgreich in allen Geräteklassen wird.
Am Freitag bekomme ich übrigens mein erstes Windows Phone 8 Smartphone welches dann prima zum Surface und meinem Windows 8 Laptop passt.
Die technischen Daten des Surface Tablets:
OS
Windows RT; Microsoft Office Home and Student 2013 RT Preview (Word, PowerPoint, Excel, and OneNote). Works exclusively with apps available in the Windows Store.
Exterior
10.81 x 6.77 x 0.37in
1.5lbs
VaporMg casing
Dark Titanium color
Volume and Power buttons
Storage
32GB*, 64GB
*1GB = 1 billion bytes; formatted storage capacity may be less
Display
10.6″ ClearType HD Display
1366×768 pixels
16:9 (widescreen)
5-point multi-touch
CPU
Quad-core NVIDIA Tegra 3
2GB RAM
Wireless
Wi-Fi (802.11a/b/g/n)
Bluetooth 4.0 technology
Battery
31.5 W-h
Cameras and A/V
Two 720p HD LifeCams, front- and rear-facing
Two microphones,
Stereo speakers
Ports
Full-size USB 2.0
microSDXC card slot
Headset jack
HD video out port
Cover port
Sensors
Ambient light sensor
Accelerometer
Gyroscope
Compass
Power Supply
24W power supply
Warranty
1-year limited hardware warranty
Apps (included)
Microsoft Office Home and Student 2013 RT Preview1 (Word, PowerPoint, Excel, OneNote); Windows Mail and Messaging; SkyDrive; Internet Explorer 10; Bing; Xbox Music, Video, and Games.
[nggallery id=99]
Ich werde das Microsoft RT nun ausführlich testen. Natürlich gibts bis morgen noch ein erstes Video dazu.
Was wollt ihr wissen? Mit welchen anderen Tablets möchtet ihr das Surface verglichen sehen? Was wollt ihr im Video gezeigt bekommen ?
Haut eure Wünsche und Anregungen in die Kommentare, ich freue mich.
[ad#Google_Adsense_Media]