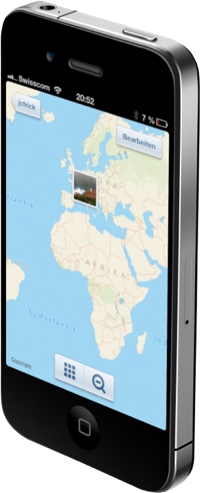 Instagram hat seine iOS und Android App auf Version 3 gehoben. Wichtigste Neuerung ist dabei die integrierte Kartenfunktion:
- View your photos on a map (visit your profile and tap Photo Map to select which of your photos will be viewable on the map)
- Redesigned profile screen
- Redesigned upload screen
- Design improvements throughout
- Infinite scrolling on photo feeds
- Flag inappropriate comments
- Bug fixes and performance improvements
Man sieht so auf einer Weltkarte wo man seine Fotos geschossen hat. Kann iPhoto fürs iPhone zwar schon lange, aber Instagram ist halt mit rund 100 Millionen Benutzern der Platzhirsch.
Weiter hat man die Profilansicht vereinfacht und den Upload Screen verbessert.
Wie ihr auf obigem Screenshot seht, benutze ich Instagram selten bis nie. Ich mag die Retro Filter nicht und publiziere meine Fotos lieber direkt auf Facebook und Co.
Download @
App Store