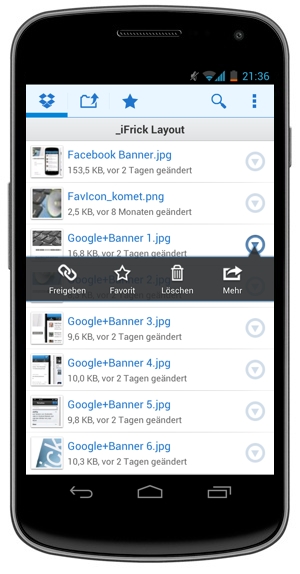 Ich liebe Dropbox. Das kleine Wolken-Speicher Dings ist einfach genial.
Nun liegt eine erste Beta der neuen Android App vor. Diese wurde ganz neu gemacht und ist logischer, leichter und mit mehr Features ausgestattet. Favoriten sorgen für den schnellen Zugriff auf eure Dokumente und sind auch offline verfügbar.
Weiter schreibt Dropbox im Forum:
As a reminder, in this release the app has been given a huge visual and under-the-hood overhaul, adding a bunch of new features:
• Favorites: quick offline access to files
• Bulk upload photos and videos
• Rename files and folders
• Single-tap access to all file and folder actions
• Improved gallery view
• Upload from and export to local storage
• Numerous bug fixes and stability improvements
Die App macht mit dieser ersten Beta Version einen grossen Sprung nach Vorne. Ich hoffe, dass auch die iOS App bald in Genuss dieses Updates kommt.
[nggallery id=60]