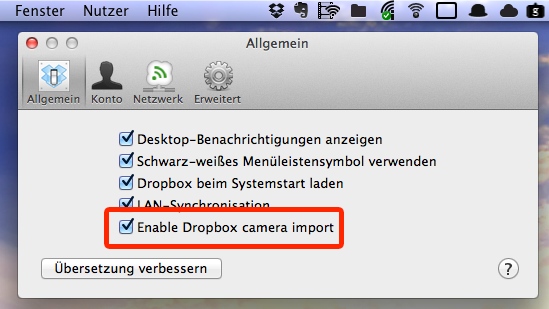 Dropbox hat ja kürzlich einen Fotoupload vorgestellt. Damit könnt beim Anschluss der Kamera oder Speicherkarte, Fotos direkt zum Cloud Speicher beamen lassen. Um das Ganze ein wenig zu pushen verspricht Dropbox nun jedem der diese Funktion aktiviert (siehe Screenshot) Speicher satt:
Keep plugging in those cameras!
During this beta period, we are also offering additional free space to test automatic uploading of photos and videos. For every 500MB of photos and videos automatically uploaded, you'll receive another 500MB space bonus, up to 4.5GB total.
Ihr bekommt also bis 4.5 GB Speicher geschenkt, wenn ihr mit dem neuen Photo Uploader 4.5 GB Bilder in eure Dropbox lädt.
Die Beta Version 1.3.12 kann im Forum heruntergeladen werden oder mit den direkten Download Links:
[ad#Google_Adsense_Media]