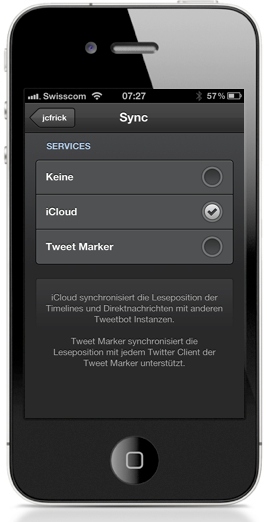 Der beste Twitter Client hat schon wieder ein Update bekommen.
Version 2.2 bringt iCloud Synchronisation. Damit können DMs, Mentions und die Position in der Timeline zwischen verschiedenen iOS Geräten synchronisiert werden:
Neue Funktionen von Version 2.2

– iCloud Integration (Must be logged into iCloud)
– Mute filters synced across instances of Tweetbot
– DM read status synced across all instances of Tweetbot when iCloud is selected for Sync
– Timeline positions are synced across all instances of Tweetbot that have iCloud selected for Sync
– Better handling of iTunes links along with thumbnail previews
– Youtube links provide thumbnail previews
– Fixed iPad retina image preview in the tweet detail
– Pinch to close image view on iPad
– Bug fixes
Version 2.2 liegt sowohl für iPhone wie auch für das iPad vor.
[ad#Google_Adsense_Posts]