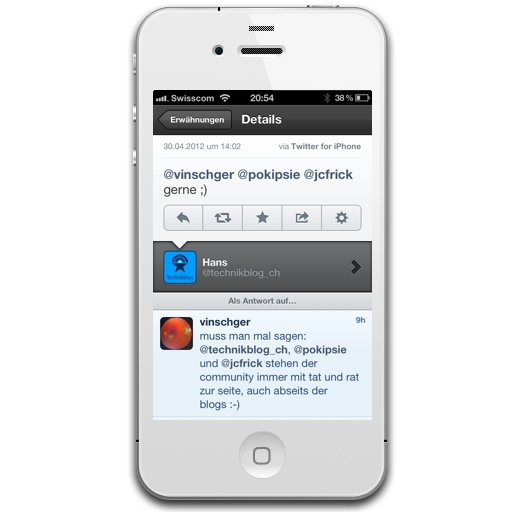 Keine App öffne ich auf meinem iPhone oder iPad so oft wie den Twitter Client Tweetbot.
Gerade ist eine neue Version im App Store aufgeschlagen:
Tweetbot 2.3 is now available at the @AppStore. Features a much improved Tweet Detail view, @Droplr support, @Storify integration and more.

— Tweetbot for iOS (@tweetbot) April 30, 2012
Version 2.3 bringt einige tolle neue Features, allen voran zwei neue Swipe Gesten um die Detail Ansicht von Tweets und die Konversationen anschauen zu können:
– New tweet detail view with inline conversations and replies (swipe right to left on a tweet for quick access)
– New gesture in tweet detail to get back to the timeline quickly (swipe left to right)
– New conversation view now contains both the conversation and replies (swipe left to right on a tweet for quick access)
– Ability to email conversations or post a link to them via Storify when in the conversation view
– Droplr Support
– Video thumbnails now have a "play" icon to differentiate it from image thumbnails
– Timeline sync bookmark icon is now an optional setting
– Reorganized tweet drawer (last two buttons have gone through some options reorganization)
– Added thumbnail support for Vimeo links
– Higher res image uploads when on wifi
– Hold down compose tweet button to quickly open last draft
– Support for $stock links
– Improved email format when sending tweets, DMs, or conversations as email
– Arabic Localization
Tweetbot ist eh eine absolute Must-Have App, aber mit Version 2.3 wird sie noch besser!
[ad#Google_Adsense_Posts]