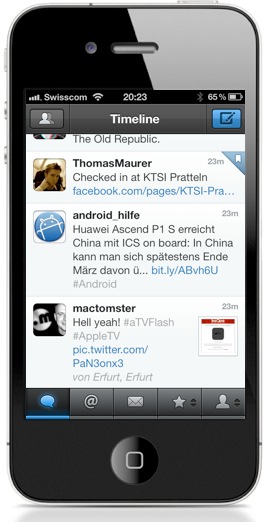 Tapbot ist gerade fleissig und hat ein grosses Update für Tweetbot fürs iPhone gebracht.
Version 2 unterstützt nun das Anwählen eines Links in der Timeline ohne Umweg, zeigt Bilder direkt in der Timeline an und hat eine an iMessage erinnernde DM Ansicht bekommen:
What's New in Version 2.0

– Updated timeline view
– Image thumbnails in timeline
– Links now colored and single-tappable
– "Retweeted by" bar now integrated and tappable
– Cell colors adjusted for better contrast
– New direct message view.
– Redesigned "New Tweets" bar (Can be dismissed by tap and configured in Settings > Display)
– Timed auto-refresh (timeline, mentions, and DM's will refresh every 5 minutes)
– Readability added as mobilizer service
– Much improved tweet replies view
– Links in user's bio now tappable
– "Huge" font size option in Settings > Display
– Improved scrolling performance
Kurz und gut: Der beste iPhone Twitter Client ist noch besser geworden. Werft den App Store an und holt euch das Update.