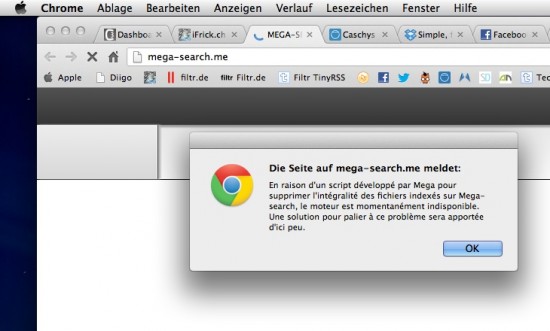 Das war ein kurzes Vergnügen. Die Suchseite Mega-Search welche angetreten war die Dateien bei Mega zu durchsuchen ist schon wieder offline.
Mega gab heute bekannt, man habe die Seite schliessen lassen da sie ohne Erlaubnis das  eigene Logo verwende sowie Links auf Urheberrechtlich-geschütztes Material geboten habe:
However, it has come to MEGA's attention that there are micro search engines that use our (M) logo and other MEGA branding without authorization. Worse, such site(s) were reported in a highly publicized manner and purport to be globally available search engines, but don't have their own DMCA takedown policy or registered DMCA agent.
Wer nun Mega-Search aufruft findet nur eine Notiz vor, man sei gerade offline. Mega kann nicht daran gelegen sein, dass eine Suchmaschine Links der eigenen Benutzer auf illegale Dateien verbreitet.
Die Daten der veröffentlichten Links hat Mega gelöscht, da viele Benutzer auch ihre privaten Schlüssel publiziert hatten.
Dropbox, Google und Co. würde genau gleich reagieren falls jemand etwas ähnliches mit deren Daten veranstalten würde.
[ad#Google_Adsense_Media]