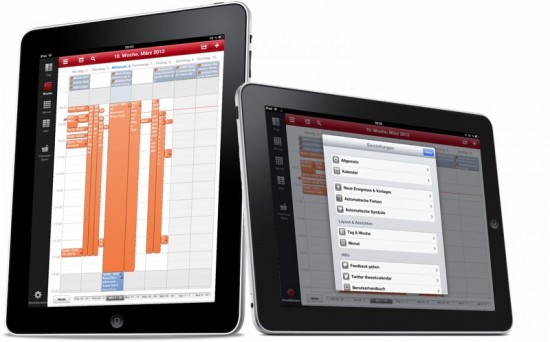 Auf meinem iPhone benutze ich den Week Calendar schon länger. Die clevere Kalender App hat den Standard Kalender abgelöst.
Nun gibt es Week Calendar HD als Version für das iPad. Die App strotzt nur so vor Funktionen und Möglichkeiten:
With icons, automatic color assignments, templates, per-event timezones, calendar presets, contacts linking, adding events into multiple calendars, Week Calendar is THE calendar app for business and casual users.

Features include:
– modern, fast user interface
– copy / paste
– customizable
– event icons
– color code events based on keywords
– a better day, week, month and year overview
– organize events using touch and flick
– works with all iPhone supported calendars (MobileMe, iCloud™, Outlook, Google Calendar, Exchange, CalDAV)
– supports calendar syncing
– quickly add appointments using tap-and-hold
– zoom in using pinching
– landscape and rotation support
– link contacts to events
– copy/paste support
– template support
– copy/paste support
– hide hours you don't need
– set complex recurrence rules ('last day of the month')
– share events via e-mail
– custom timezone support
– custom week numbers
– better birthday integration (see the age of contacts)
– unlimited search
– customizable menu with 30 actions to edit events
– Supports TextExpander touch snippet expansion
Der grössere Bildschirm des iPad tut der Darstellung sehr gut. Man hat einfach einen besseren Überblick über die anstehenden Termine und das Drag&Drop der einzelnen Terminen funktioniert natürlich ebenfalls zuverlässiger.
Week Calendar HD ist mein Download Tipp heute, und die 3 sFr. definitiv wert: