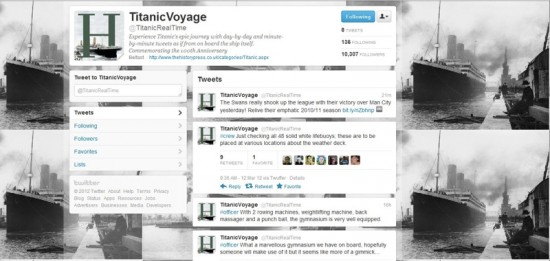 Heute vor 101 Jahren ging die Titanic in den eiskalten Flutes des Atlantiks unter.
Wie schon zum Jubiläum vor einer einem Jahr, kann das Ereignis auch dieses Jahr auf Twitter nachgelesen werden. Unter twitter.com/TitanicRealTime findet ihr den Ablauf chronologisch.
Das Unglück ist in der Nacht passiert, das heisst während ich diese Zeilen schreibe ist das Schiff schon untergegangen:
#officer They say there are around 700 of us – that adds up to around 1,500 lives lost…..

— TitanicVoyage (@TitanicRealTime) April 15, 2013
Finde diese Art des Geschichtsunterrichtes spannend und Twitter ist genau das richtige Medium um vergangene Ereignisse noch einmal nacherzählen zu können.
[ad#Google]