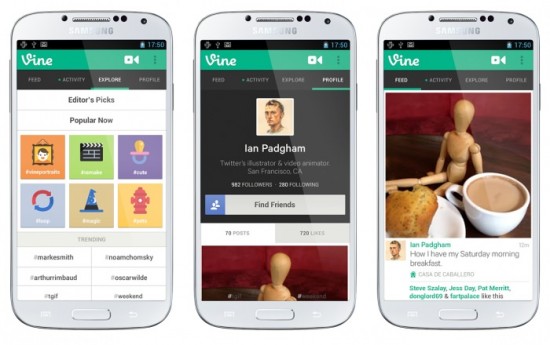 Vine ist ein von Twitter übernommener Dienst bei welchem man Kurzvideos hochladen und einfach bei Twitter einbinden kann. Das Videonetzwerk hat rund 13 Millionen Benutzer.
Bisher gab es die App nur für iOS Geräte. Nun hat Twitter eine Android App veröffentlicht.
Vine for Android has many of the features that more than 13 million people have grown to love: easy video creation with automatic playback and sound; Explore, where you can discover popular posts and see what's trending; and Find Friends, where you can find and invite people you know to join. You can also share your posts to Twitter –– people will be able to watch them right within your Tweet. Oh, and we added a feature that's unique to Android: zoom.
Bei dieser kann also, im Gegensatz zur iOS App, auch im Video gezoomed werden.
Der Rollout in den Google Play Store hat gerade erst begonnen, weshalb ich euch noch keinen Download Link anbieten kann, sobald dieser funktioniert werde ich den Post hier aktualisieren. (via Twitter)