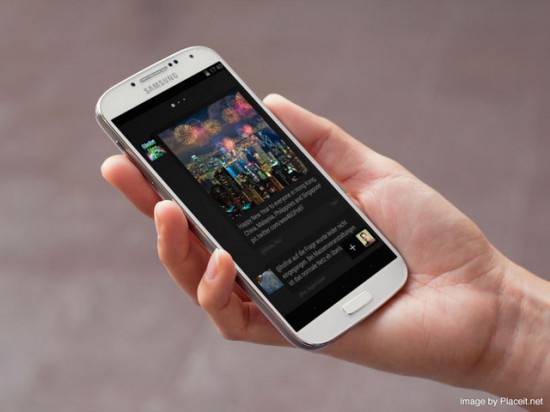 Android und Twitter ist für mich keine einfache Sache.
Es gibt im Google Playstore zwar haufenweise Twitter Apps aber keine konnte mich bisher so richtig überzeugen. Am besten gelang das noch der App Falcon Pro welche aber inzwischen leider aus dem Store geflogen ist und nur noch halbherzig weitergepflegt wird.
Schon immer mit tollem Design geglänzt hat die Twitter App Carbon. Die Macher haben nun mit Version 2 noch einmal ordentlich nachgelegt:
All-new Carbon v2 with a new design and experience.

Carbon experience for Android Smartphones. No Tablet support yet.

Simple, Dark, and a dash of elegance for your Twitter day-to-day pleasure.

Carbon is a Twitter client, but unlike other Twitter clients. All of your Twitter content on one screen. A screen that doesn't get you drilling down to many other screens to reach to what you want. Timelines, Lists, Favourites, Searches, Trends, Profiles, all there.

– Fresh new Design & Interface
– Brand new Timeline design & aesthetics
– Swipe-able Timeline, @Mentions, and Messages on Home.
– Quick Timeline, one Timeline for Searches, List, Favourites on your Home screen.
– Don't Disturb Mode
– Oxide Mode for Grayscale Timeline experience
– Power Scroll: Scroll/Swipe up or down using Two fingers to jump to top or bottom of Timelines
– Tweet Quick Actions
– Configuratie Tweet Font Sizes
– Retweets Timeline
– In-App Browser
– In-App YouTube Player
– Vine Previews & Playback
– Rich Timelines with full inline images and videos
– Rich and elegant style for User Profiles
– Rich Conversation View
– Threaded Direct Messages
– Background updates with quick actions for Jelly Bean, per account
– Username Autocomplete
– Mutes/Filters for Hashtags, Users, and Keywords
– People Search
– Obviously Multi-account with simultaneous accounts tweets
– Profile Editor
Die App ist nicht nur rasend schnell und schick, sondern arbeitet auch mit Gesten statt mit Buttons. Das funktioniert ganz ähnlich wie beim iOS Twitter Client Tweetbot. Hat man mal den Bogen raus navigiert man sehr praktisch durch die verschiedenen Funktionen.
Beim ersten Start wird ein Tutorial angezeigt welches die verschiedenen Gesten erklärt. Dieses kann auch später noch jederzeit aufgerufen werden.
Für mich momentan klar die beste Twitter App unter Android.