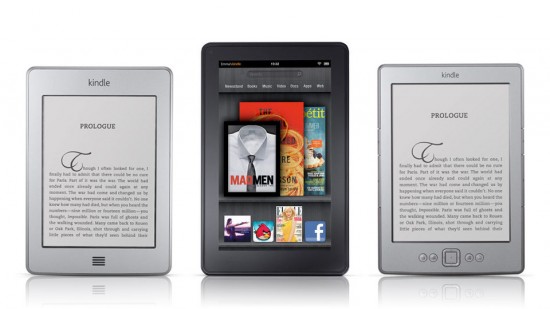 Amazon hat heute an seinem Media Event neben dem neuen Kindle Fire auch 2 klassische Kindle eBook Reader mit eInk Display vorgestellt.
Der Einstiegskindle kostet neu nur noch 79$ und ist ein WiFi only Reader im eleganten silber Alu Design:
30% lighter, less than 6 ounces
18% smaller body, same 6″ screen size – Fits in your pocket
Most advanced E Ink display, reads like paper
Built in Wi-Fi – Get books in 60 seconds
Der Kindle ist mit 79$ sehr günstig und damit der perfekte Einstieg in die Amazon Kindle Welt. Dank seiner 2 Monate Batterielaufzeit ist er der perfekte eBook reader für Leute welche "nur" Lesen wollen.
Der ebenfalls komplett neue
Kindle Touch
kommt mit einem Touchscreen daher und ist WiFi only wie auch mit 3G zu haben:
Most-advanced E Ink display, now with multi-touch
New sleek design – 8% lighter, 11% smaller, holds 3,000 books
Text-to-speech, plus audio books and mp3s
Den Kindle Touch gibt es auch in einer 3G Variante.
Bisher sind diese Kindle Modelle nur in den USA bestellbar. Preise und Verfügbarkeiten für Europa sind noch nicht bekannt.
Die beiden älteren Kindle 3G und DX sind weiterhin, auch in Europa, erhältlich. Damit verfügt Amazon nun über 5 Kindle Versionen mit verschiedenen Userinterfaces:
Die Kindle Familie ist damit komplett und bietet für jeden etwas, sei es ein Touchscreen Gerät, eines mit Keyboard oder einen einfachen Reader. Die Preise aller Modelle sind dabei konkurrenzlos niedrig. Zusammen mit dem Amazon Cloud Imperium sind die Kindle die perfekten Geräte um darauf zuzugreifen: