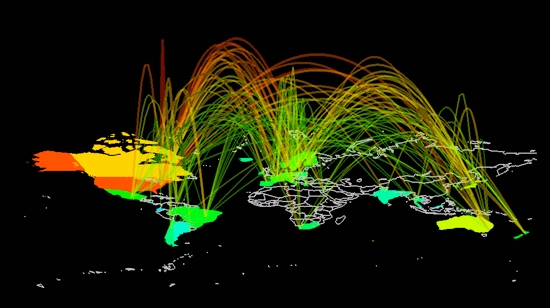 British Telecom gab bekannt, dass der Release von Apple iOS 5 zum grössten Anstieg des Internet Traffics führte der in England je gemessen wurde:
Over the last two nights, BT has experienced the highest ever traffic levels over the UK broadband network.
Das gemessene Volumen von 80Gbit/s übertraf dabei das Fussball WM Spiel von England um das Doppelte:
This exceeded previous peaks seen during Wimbledon and major England football matches. At a rough figure we were seeing over 80Gbits/s of extra traffic on the network last night (Wednesday). That would make it about twice the volume of the previous largest event, an England World Cup Football Game – which was during UK business hours, not the evening peak. Estimated traffic volumes from the Content Delivery Network (CDN) that Apple use were nearly double the peak last Tuesday.
Welchen Traffic Apple insgesamt über sein CDN Netzwerk gehabt haben muss ist leider nicht bekannt. Erstaunlich wie reibungslos der Download von iOS 5 dabei über die Bühne ging. Das Aktivieren der Geräte dauerte dann teilweise mehrere Stunden, da diese Server ,im Gegensatz zu den Download Servern nicht im CDN Netzwerk ausgelagert waren, sondern bei Apple selber stehen, und massiv überlastet waren. (via)