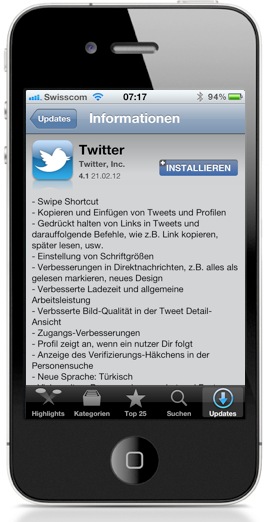 Twitter hat seine offiziellen Apps einem umfangreichen Update unterzogen.
Version 4.1 bringt folgende Neuerungen mit:
Changes are for iPhone only:
– Swipe shortcut
– Copy and paste for tweets and profiles
– Press and hold actions on links in tweet details
– Font size settings
– Direct Message improvements
– Confirmation alert for Find Friends
– Improved startup time and general performance improvement
– Improved image quality in tweet detail
– Accessibility improvements
– Profile shows whether a user follows you
– Verified badges in people search results
– New language: Turkish
– Lots of other polish and bug fixes
Leider hat sich die iPad Version überhaupt nicht verändert und fällt damit weiter zurück. Auch die Android Version von Twitter bekam das Update spendiert.
Mit der neuen Version kann Twitter wieder ein wenig den Anschluss an den Platzhirsch Tweetbot finden. Die Swipe Gesten aus den alten Versionen sind endlich wieder da.
Die Twitter iOS App ist aber auch in V4.1 keine Konkurrenz zu Tweetbot. Dazu fehlen zu viele der Power Funktionen. Gerade auf dem iPad ist seit mehr als einem halben Jahr nichts mehr passiert. Dort ist Tweetbot for iPadunangefochten meine Nummer 1.
[ad#Google_Adsense_Posts]