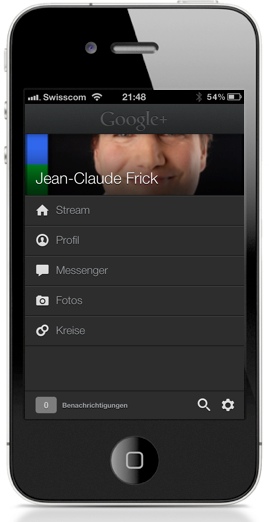 Erst gerade hat sich Google+ einem kompletten Redesign unterzogen, nun folgt die iOS App.
Google+ Chef Vic Gundotra gab soeben bekannt die App im App Store bereitgestellt zu haben.
Die App wurde komplett neu gemacht:
A feast for the eyes
Full-bleed photos and videos are cool. But you know what's really cool? Content so immersive it remakes your mobile device into a rich carousel of beloved memories and breaking news. That's the Google+ experience we aspire to, and today's release helps us get closer:

Whether you post photos or articles or text, we're making 'em look gooood
We're adding crisper fonts, larger profile pics and a friendlier homescreen
We're making the stream easier to scan, and easier on the eyes with overlays, gradients and other visual elements

A stream you can swim in
Looks alone aren't enough—you also need an app that's fast and fluid. Even a simple swipe gesture can inspire the same "wheeee!" as the bubble wands and ball pits we enjoy(ed) as kids. So today's update pays special attention to fun and performance:

Conversations fall into view as you move forward and backward in time
Optical cues (like parallax) help the mind linger on individual posts
Important actions like +1 now float atop the stream, making it easy to endorse all your favorites
Erstaunlicherweise setzt Google das neue Design bei Google+ zuerst bei der iPhone App und erst in einigen Wochen bei Android um:
The iPhone update is rolling out now to the App Store(version 2.0.0.5888), and the Android update is coming in a few weeks (with a few extra surprises).
Bin gespannt wann das Update bei mir erscheint, sieht auf jeden Fall sehr vielversprechend aus. (via)
(Update 21:50): Auch wenn der App Store das Update noch nicht anzeigt, kann einfach nach der Google+ App gesucht werden, dort wird dann die aktuelle Version 2.0.0.5888 angezeigt welche dann geladen werden kann.
[nggallery id=90]

[ad#Google_Adsense_Posts]