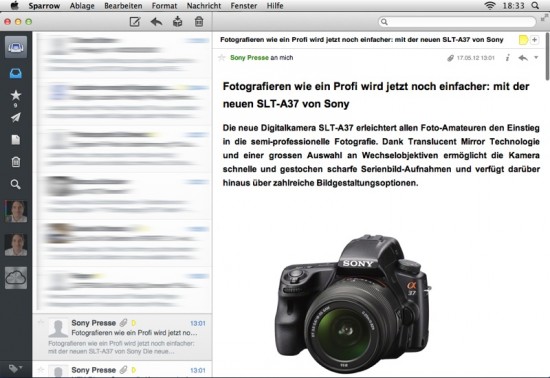 Nachdem Sparrow für das iPhone erst kürzlich ein Update bekommen hat, war heute die Mac Version dran.
Sparrow 1.6 bringt neben dem von vielen gewünschten POP Support einige weitere Verbesserungen:
New features:
– POP support
– Esc on Quick Reply saves as draft
– Empty spam
– Unified inbox shows starred, sent, drafts, etc.
– Inbox zero message
– Composer: tab toggle now works for selecting the sending account
– Pull to refresh updates list of starred messages / unread messages / priority messages
– Shift-cmd-option-M toggles Extended Sidebar
– App startup time improvement

Bug Fix:
– Fixed avatar behavior (thanks to Ellis Hamburger)
– Improved charset decoding
– Remove flickering when message list is empty
– Fixed scrollers behavior in sidebar
– Random scroll in the list when switching folder
– Parsing issue with Asana mail
– Periodical log clean up
– Improved contacts synchronization from Gmail
– Draft icon aligment in conversation view
– Refresh folders list periodically
– Avoid marking conversations as read automatically when it was previously selected and mailbox is empty
– Handle additional international subject reply and forward prefix
Besonders gut gefallen mir die Verbesserungen an dem universellen Posteingang. So kann nun auf alle Ordner gleichzeitig zugegriffen werden, und Spam Mails lassen sich mit einem Klick in allen Postfächern löschen.
Mit der Unterstützung von POP Accounts hilft Sparrow allen welche noch Mailkonten haben welche kein IMAP unterstützen.
Das Update von Sparrow macht die Mail App auf dem Mac noch vielseitiger. Es gibt damit eigentlich kaum mehr einen Grund noch auf Apple Mail zu setzen.
[ad#Google_Adsense_Media]