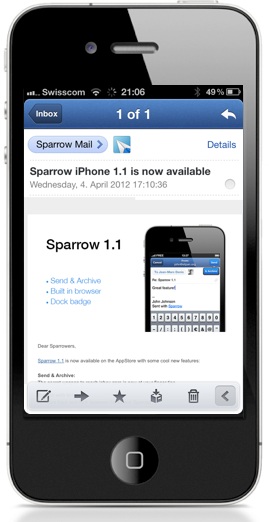 Der beliebte iPhone Mail Client Sparrow hat ein erstes grosses Update bekommen.
Version 1.1 bringt einen integrierten Browser mit, unterstützt nun die Anzeige der ungelesenen Mails im Badge pro Account und kann nun auch beim Senden Archivieren:
What's New in Version 1.1

New features:
– Built-in web browser
– Send & archive
– Empty trash
– Empty spam
– Dock badge preferences by account
– Show/hide labels and folders
– Choice to include attachments when forwarding messages

Bug fix:
– Compatibility with mail servers
– Improved mail servers detection (gApps login error, self-signed certificates)
– Composer wrapping behavior
– Custom SMTP for alias
– Issue with SMTP without password
– Message view behavior with email that do not scroll
– Swipe gesture to add custom account
– Refresh starred / unread using pull to refresh
– Fixed account list scrolling with more than 10 accounts
– Video attachments are shown fullscreen
Fehlt nur noch Push Mail und ich würde mir den täglichen Einsatz der App ernsthaft überlegen. Die Machen sind aber daran diese Funktion in einer der nächsten Versionen nachzurüsten wie sie auf dem Sparrow Blog schreiben:
What's up on Push?

Thanks to your amazing support, we feel confident that Apple might revise its position on the Push API. We'll submit a first version of Sparrow 1.2 including it. This might delay Sparrow 1.2 validation but we're already working with some partners to include Push in future versions of Sparrow without needing Apple clearance.

Push is coming. If Apple can't help us yet, we have other ideas.
[ad#Google_Adsense_Media]