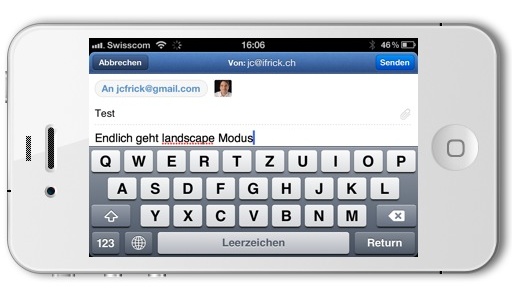 Sparrow für das iPhone bekam innerhalb kurzer Zeit eine grosse Fangemeinde.
Der alternative Mail Client glänzt mit cleveren Features und einer logischen, intuitiven und coole Bedienoberfläche.
Die neue Version 1.2 bringt ein paar lang ersehnte Features:
New features:
– Navigate between messages by swiping up and down
– Landscape composing
– Edit and create label/folder
– Localization in 9 languages: English, French, German, Spanish, Italian, Japanese, Dutch, Russian, Chinese

Bug fix:
– Composer scrolling with some keyboards
– Draft being displayed has empty cells in all mail
– Wrong contact is kept in autosuggest when composing
– Charset issue
Endlich ist es also mit Sparrow möglich im Querformat zu schreiben. Sparrow wird dadurch noch viel praktischer. Selber würde es auf meinem iPhone den Standard Mail Client ersetzten wenn es Microsoft Exchange Server Konten unterstützen würde. Das fehlt aber leider bisher noch ebenso wie Push Support, welcher aber bald kommen soll.
Wer IMAP und Google Mail Konten benutzt kann aber mit Sparrow für das iPhone nichts falsch machen.
[ad#Google_Adsense_Media]