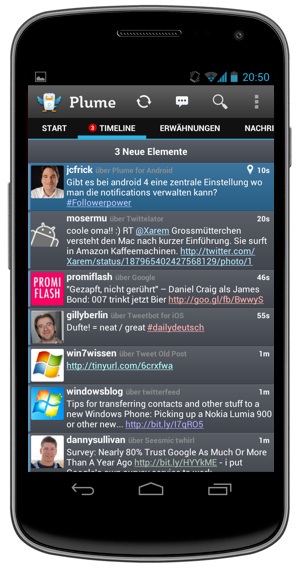 Bis vor kurzem wartete ich noch auf einen richtig guten Twitter Client für Android. Nachdem sich Carbon langsam ankündet, gibt es aber spätestens seit heute auch mit Plume wieder eine hervorragende Twitter App.
Das Update auf Version 3 bringt ein komplett neues Userinterface welches sich stark ans Android 4 Ice Cream Sandwich Layout anlehnt, dazu kommen ein paar neue Features:
Brand new user interface to be more inline with ICS, TMI.me long tweet handler in addition to Twitlonger, MyPict.me picture upload, resize uploaded pictures depending on the network type in use (hence the new permission), bugfixes
[nggallery id=85]
Die Listenansicht ist echt gelungen. Daneben ist die App schnell und elegant. Auf einem Tablet hat man natürlich noch mehr Platz um sich seine Listen optimal anzupassen. die App ist vollgepackt mit Features. Egal ob eine Stumm-Funktion, Twitter Realtime Unterstützung oder TweetMarket Synchronisation, es ist alles drin was der Power Twitterer braucht.
Plume wird auf meinen Android Geräten ab sofort der Standard Twitter Client, solange bis Carbon endlich erhältlich ist.
[app]com.levelup.touiteur[/app]
[ad#Google_Adsense_Media]