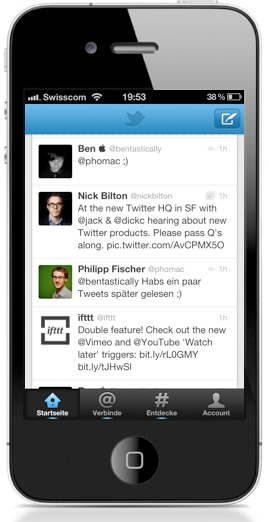 Die Twitter eigene iOS App bekommt mal wieder ein grösseres Update. Durch einen Fehler in der iOS 6 Beta konnte für kurze Zeit ein Blick auf die Release Notes der Version 4.3 geworfen werden:
More interactive Tweet view experience: content previews, videos, images and more will now be shown within tweets containing links to "partner websites."

Tweets about "selected events" will now be highlighted. Twitter will curate the relevant tweets and images

In the Connect tab, autocomplete improvements will be now be present. Twitter rolled out something similar to their official website last week.

Major push notifications enhancement: You will now be able to choose to receive push notifications when certain people tweet
Like in Tweetbot, you will now be able to receive unobtrusive Twitter notifications while you are using the app.

The Discover tab will now be able to alert users when new content is ready for perusal

Personalized Trends

You will now be able to tap a user's avatar to be taken to their profile page

Improved performance

You will now be able to manually input your password when having authentication issues

Hungarian localization

Finally: the new Twitter logo will be featured on the icon

Also promised is a slew of other tweaks, more polish, and bug fixes
Das Update bringt einerseits die letzte Woche eingeführten neuen Such Funktionen, andererseits auch einige Verbesserungen bei den Notifications. Wie schon bei Tweetbot wird es auch im Twitter iOS Client möglich sein Benachrichtigungen anzuzeigen während die App geöffnet ist.
Wann die neue Version erscheint ist noch nicht klar, es dürfte aber nicht mehr lange dauern. (via)