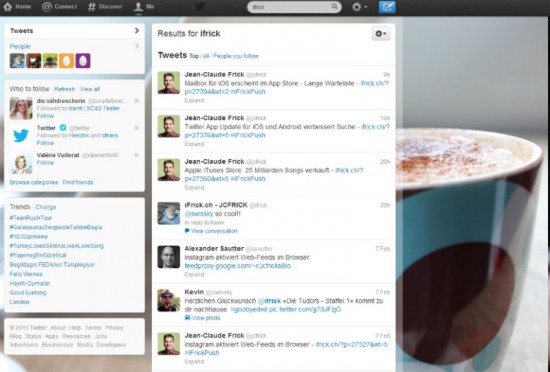 Twitter bohrt die Suche auf.
Nachdem das Unternehmen Anfang Woche die eigenen Apps für Android und iOS aktualisierte ist nun die Homepage dran:
Previously, Twitter search results displayed Tweets going back about a week. We've developed a way to include older Tweets, so you can see content that goes beyond the more recent Tweets.
Twitter will also einen Weg gefunden haben die bisher schlechte Suche zu verbessern. Dabei werden nun auch ältere Tweets angezeigt, ohne den Benutzer aber gleich mit zuvielen Resultaten zu verwirren:
As we roll this out over the coming days, the Tweets that you'll see in search results represent a fairly small percentage of total Tweets ever sent. We look at a variety of types of engagement, like favorites, retweets and clicks, to determine which Tweets to show. We'll be steadily increasing this percentage over time, and ultimately, aim to surface the best content for your query. For now, enjoy your trip down memory lane!
Twitter berücksichtigt also die Anzahl Retweets, ob ein Tweet favorisiert wurde und wie oft auf den Link geklickt wurde bei seiner Anzeige der Suchresultate.
Die verbesserte Suche wird in den nächsten Tagen ausgerollt. Mal schauen ob dadurch die Twitter Suche langsam brauchbar wird oder nicht. (via Twitter)
[ad#Google_Adsense_Media]