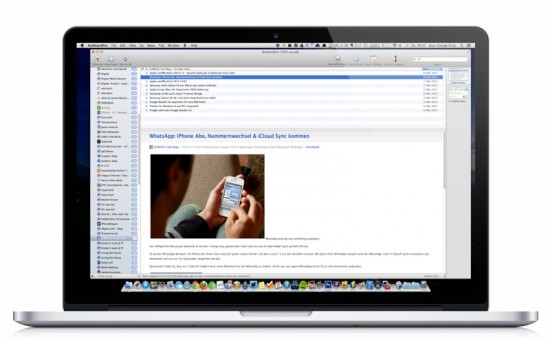 Nachdem am 1. Juli beim Google Reader der Strom abgestellt wird, beginnen immer mehr Hersteller von RSS Readern über eigene Synchronisations-Funktionen nachzudenken.
Neuestes Bespiel ist Blackpixel dem Besitzer der Mac App NetNewsWire. In einem Blogpost wurde bekannt gegeben, dass in den RSS Reader die Möglichkeit zur Synchronisation seiner Feeds eingebaut werden soll:
First, we intend to bring sync to future versions of NetNewsWire. It's too soon to go into details about this, but you should know that we recognize how extremely important it is and that it is a top priority for us.

Second, even though we've been quiet about it, we have been working on new versions of NetNewsWire for Mac, iPhone, and iPad. We have some great new features and a modern design that we can't wait to show you.
Wer NetNewsWire nicht kennt. Auf dem Mac ist es einer der besten RSS Reader, auch wenn er noch wie in den 90iger Jahren aussieht. So alt das Design, so gut sind die Funktionen und die Geschwindigkeit.
Unter iOS habe ich mich nie mit NetNewsWire beschäftigt da dort Reeder mein Favorit ist.
Auch diese App soll bald eine eigenes Synchronisations-Feature bekommen und damit unabhängig vom Google Reader werden.