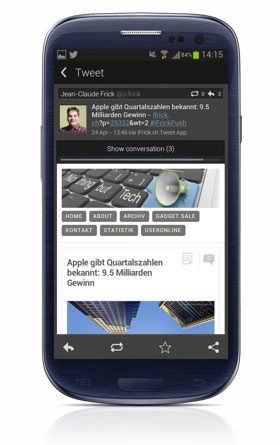 Die Macher von Falcon Pro sind wirklich fleissig.
Sie haben eine neue Version im Google Play Store veröffentlicht welche einen Offline Modus mitbringt, bei welchem ihr Tweets, Bilder und Videos vorher runterladen und dann auch ohne Internet Zugang nutzen könnt:
#v1.8.2
– New : Full Offline mode ! – Option to predownload images for offline access (pics, video thumbnails and article images) – With automatic cache cleaning.
– New : open Play Store links from internal browser to google play app.
– New : translations (Portuguese, Thai, Dutch, Catalan, Arabic, Chinese, Turkish, Hungarian)
+ Many fixes
Falcon Pro war schon vorher die beste Twitter App für Android und wird dadurch noch besser. Holt euch das Teil und unterstützt den Entwickler bei seiner klasse Arbeit.