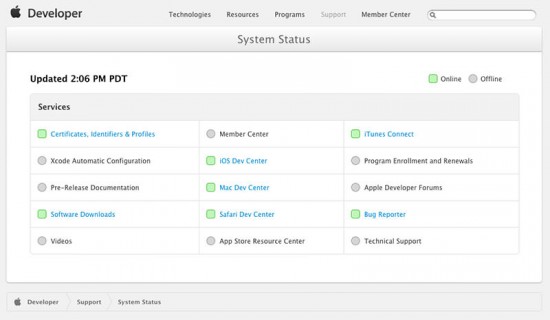 Nach dem vermeintlichen Hacker Angriff auf das Apple Entwicklerportal, war die Seite über eine Woche komplett deaktiviert.
Heute Samstag wurden nun Teil davon wieder für den Zugang freigeschaltet. Die Download Center für iOS, OS X und Safari sowie die generellen Download Ressourcen sind wieder erreichbar.
Apple schreibt in einer E-Mail an die Entwickler:
Certificates, Identifiers & Profiles Now Available 
We appreciate your patience as we work to bring our developer services back online. Certificates, Identifiers & Profiles, software downloads, and other developer services are now available. If you would like to know the availability of a particular system, visit our status page.
If your program membership expired or is set to expire during this downtime, it will be extended and your app will remain on the App Store. If you have any other concerns about your account, please contact us.
Thank you for bearing with us while we bring these important systems back online. We will continue to update you on our progress.
Somit dürften über das Wochenende wieder alle Dienste aktiviert werden, wodurch ein normales Arbeiten für Softwareentwickler wieder möglich wird.
[ad#Google]