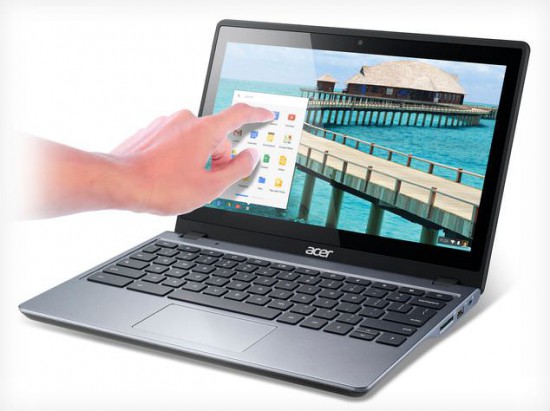 An der CES hat Acer eine Weiterentwicklung des C-720 Chromebooks vorgestellt.
Das neue Modell entspricht dabei dem im Dezember vorgestellten Vorgänger bringt aber einen Touchscreen mit. Damit ist es neben dem Google-eigenen Chromebook Pixel das bisher einzige Chromebook mit Touchscreen.
Während das Pixel aber ein High End Notebook ist welches 1200$ kostet, soll das C-720p für 299$ auf den Markt kommen. Technisch entspricht es dem normalen 720:
11.6'' (1366×768) touchscreen display, 16:9 aspect ratio
0.78 inches thin – 2.97 lbs/ 1.35kg
Up to 7.5 hours of active use
New Intel® Celeron™ processor
100 GB Google Drive Cloud Storage2 with 16GB Solid State Drive
30-day free trial with Google Play Music All Access
Built-in dual band Wi-Fi 802.11 a/b/g/n
VGA Camera
1x USB 3.0, 1x USB 2.0
Full size HDMI Port
Bluetooth®4.0 Compatible
The Verge meldet, dass das Touchscreen Modell eine 32GB SSD eingebaut hat, statt der 16GB Variante welche im normalen C-720 drin steckt. Spielt aber eigentlich keine Rolle da die Chromebooks stark auf Cloud Speicher setzen und die interne SSD nur als Cache und für den offline Zugang brauchen.
Roland von Mobilegeeks hat sich das neue Chromebook kurz angeschaut:
Fazit:
Das Acer C-720p mit Touchscreen ist ein cooles Gerät. Chromebooks sind definitiv im kommen und haben die Netbooks im Segment bis 300$ abgelöst. Mit der Einführung eines Touchscreens gibt es nun zwei Chromebooks welche so so bedienen lassen. Wenn Google Chrome OS jetzt noch besser an diese neue Möglichkeit anpasst steht dem Erfolg der Touch Modelle nichts mehr im Weg.