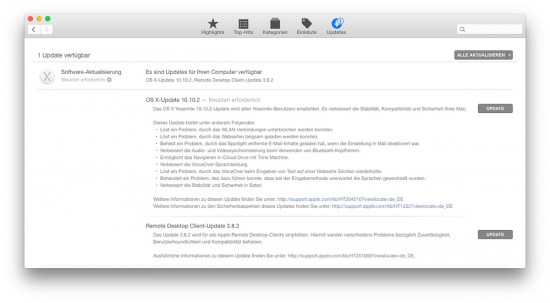 Apple hat nicht nur iOS 8.1.3 veröffentlicht sondern auch gleich für sein Desktop Betriebssystem OS X Yosemite ein Update freigegeben.
OS X 10.10.2 soll endlich die Probleme mit der WiFi Verbindung beheben. Darunter litten zahlreiche Benutzer von Yosemite seit das neue Mac OS im Oktober veröffentlicht wurde.
Auch sonst wurden einige nervige Fehler von OS X Yosemite behoben:
This update includes the following improvements:

Resolves an issue that might cause Wi-Fi to disconnect
Resolves an issue that might cause web pages to load slowly
Fixes an issue that could cause Spotlight to load remote email content when this preference is disabled in Mail
Improves audio and video sync when using Bluetooth headphones
Adds the ability to browse iCloud Drive in Time Machine
Improves VoiceOver speech performance
Resolves an issue that could cause VoiceOver to echo characters when entering text on a web page
Addresses an issue that could cause the input method to switch languages unexpectedly
Improves stability and security in Safari
Viel Spass beim Download.
[adrotate banner="4″]