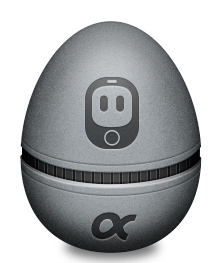 Mein Lieblings Twitter Client TweetBot für Mac liegt zwar immer noch erst als Alpha Version vor, diese macht aber grosse Schritte Richtung finale Version.
Heute kam V 0.7 raus und bringt wieder einige Verbesserungen mit sich. Wichtigste Änderung ist dabei, dass die V0.7 die letzte Version ist welche noch unter OS X 10.7 Lion läuft.
Alle folgenden, sowie natürlich die finale Version von TweetBot für Mac werden zwingend OS X Mountain Lion voraussetzen.
Weitere Änderungen: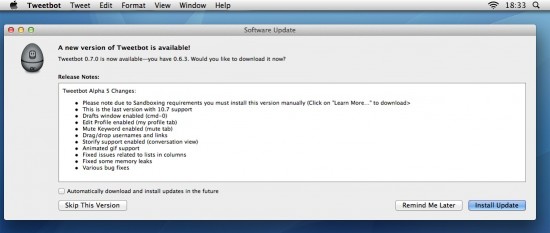 Please note due to Sandboxing requirements you must install this version manually
This is the last version with 10.7 support
Drafts window enabled (cmd-0).
Edit Profile enabled (my profile tab)
Mute Keyword enabled (mute tab)
Drag/drop usernames and links
Storify support enabled (conversation view)
Animated gif support
Fixed issues related to lists in columns
Fixed some memory leaks
Various bug fixes
Durch die Unterstützung von Apples Sandboxing Modus muss die aktuelle Version manuell installiert werden. Sie kann bei Tapbots heruntergeladen werden.
Ich rechne damit, dass TweetBot für Mac bald als finale Version erscheinen wird.