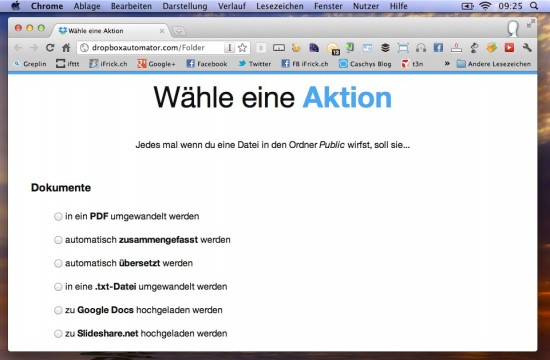 Kennt ihr ifttt ? Dieser Dienst hilt euch die verschiedensten Dinge im Web zu automatisieren. Seit ein paar Tagen gibt es nun den Dropbox Automator.
Aufgeschaltet zwischen Weihnachten und Neujahr ist der Dienst nach anfänglichen Schwierigkeiten inzwischen gut erreichbar.
Ihr könnt damit eure Dropbox Daten automatisieren bezw. jedes Mal wenn ihr eine Datei in die Dropbox schiebt einen Task dabei auslösen lassen. Möglich ist momentan folgendes:
Documents

Convert to PDF
Summarize
Translate
PDF to TXT
Upload to Google Docs
Upload to Slideshare
Sign PDF (electronic signature)

Pictures

Upload to Facebook
Upload to Flickr
Downscale
Rotate image
Write text on image
Photo effect
Stamp a logo on the image
Stamp a map on the image
Stamp a "dislike" on the image

Any file

email
Zip file
Save it to another Dropbox-folder
Rename
Upload to FTP-Server
Encrypt file
Decrypt file

Send info

Tweet
Set Facebook status file
[ad#Google_Adsense_Posts]
Auch wenn ihr eure Dropbox Anmeldedaten angeben müsst, macht der Dienst Spass. Dinge in der Cloud automatisch tun zu lassen lässt mir Zeit für anderes.