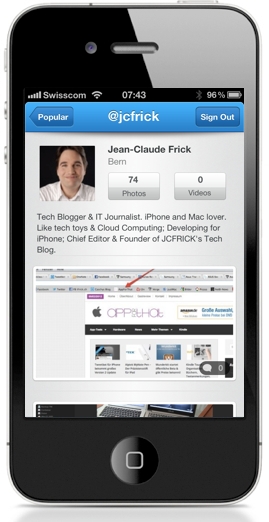 Wer Twitter kennt dürfte auch TwitPic kennen. TwitPic war einer der ersten Fotodienste für Twitter.
Inzwischen hat zwar Twitter auch eine eigene Fotoupload Plattform, aber durch die Integration in fast jeden Twitter Client ist TwitPic immer noch sehr beliebt.
Nun bringt man eine eigene iPhone App. Dabei geht es nicht nur darum Bilder zu teilen, sondern es sind auch einige Bildbearbeitungsfunktionen eingebaut:
★ Quickly and seamlessly share your photos and videos with all of your Twitter followers
★ Edit your photos with beautiful filters and easy to use enhancement tools
★ Browse your Twitter photo timeline with photos from people you follow in a beautiful interface
★ Browse photos from the most popular Twitpic users
★ Manage your Twitpic photos and videos in your own timeline
Stellt sich die Frage wer sowas in Zeiten von Instagram überhaupt noch braucht. Ich wohl nicht, wer seine Bilder aber eh auf TwitPic hochlädt für den lohnt sich ein Blick auf die Gratis App.
Bisher gibt es die App nur fürs iPhone, eine Android Version soll aber bald folgen.
[ad#Google_Adsense_Posts]