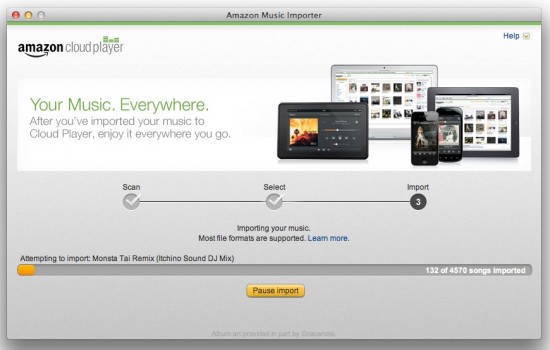 Amazon bohrt seinen Cloud Player auf. In einer E-Mail gab Amazon die Neuerungen bekannt:
We've Made Improvements to Cloud Player

When you sign into the updated Cloud Player, we'll upgrade your music to high-quality 256 Kbps audio at no additional charge.

We've also made it easier to get your music from your computer to Cloud Player. We'll match your songs to Amazon's 20 million song catalog. All songs we match – even music purchased from iTunes or ripped from CDs – are instantly made available in Cloud Player.

Plus, MP3 songs and albums you purchase from Amazon – even those you purchased in the past – will be automatically saved to Cloud Player, which means you'll have a secure backup copy of the music you buy at Amazon, free of charge. Learn more.
Damit macht Amazon genau das gleiche wie Apple mit seinem iTunes Match. Es scannt die lokale HD und vergleicht die dort gespeicherten Songs mit dem eigenen Titelrepertoire. Songs welche Amazon selber hat müssen so also nicht mehr in die Wolke hochgeladen werden sondern stehen sofort zur Verfügung.
Es können auch iTunes Songs gekauft werden, sogar solche welche man bei Apple gekauft hat. Solange diese kein DRM haben erkennt die Amazon Software diese und vergleicht sie mit dem eigenen Musik Laden.
Ich hab mit die Coud Drive Software auf meinem Mac installiert. Ist leider ein Adobe Air Gelumpe und keine richtige Software! Sobald das Ding startet beginnt er gleich die lokale Musikdatenbank abzugleichen.
Im Unterschied zu iTunes Match dauerte der Vorgang bei meinen rund 4000 Songs aber eine ganze Nacht. Danach stehen mir aber in meinem Cloud Player nun alle Songs zur Verfügung. Wie iTunes Match lädt die Amazon Software nicht erkannte Musiktitel in die Cloud hoch: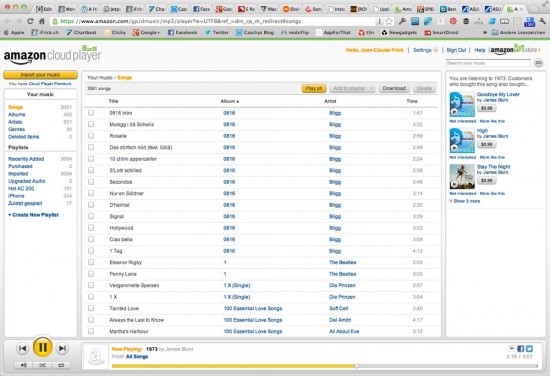 Da ich iTunes Match habe brauche ich den Amazon Cloud Player eigentlicht nicht. Wer aber nicht auf iTunes setzten bezw. seine Musik sowieso schon bei Amazon kauft, dem kommt die Erweiterung gerade Recht.
Es lebe die Cloud!
[ad#Google_Adsense_Media]