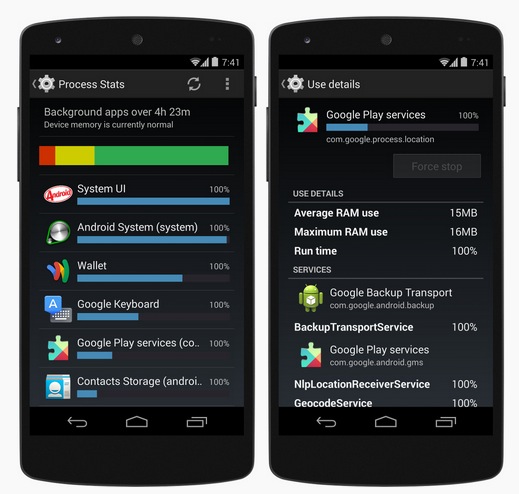 Google hat ein Update der eigenen Play Services für Android veröffentlicht.
Die Google Play Services werden für eine Vielzahl von Android Funktionen benutzt und beeinflussen das Verhalten eures Smartphones.
Die aktuelle Version 4.1 verbrauchen weniger Akku als beim Vorgänger. Vor allem bei Zugriffen auf den eigenen Standort macht sich dies bemerkbar.
Google Play Services 4.1

The latest release of Google Play services has begun rolling out to users. It includes new Turn Based Multiplayer support for games, and a preliminary API for integrating Google Drive into your apps. This update also improves battery life for all users with Google Location Reporting enabled. Once the rollout has completed, you'll be able to download the SDK using the Android SDK manager and get started with the new APIs.
Bei meinem Nexus 5 verbrauchten die Google Play Services teilweise mehr als 25% Akkuleistung was das Smartphone jeweils gegen Abend in die Knie gehen liess.
Wie immer wird das Update automatisch und phasenweise auf eure Android Gerät ausgerollt. (via Android Developers)
[ad#Google]