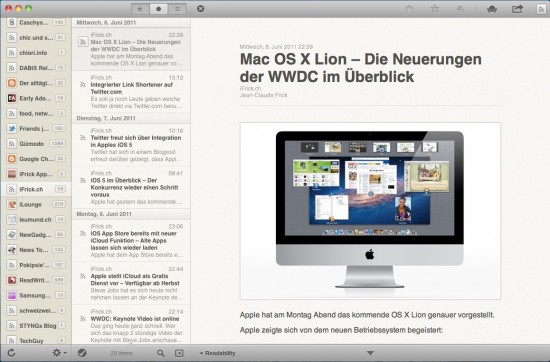 Nach gefühlten 50 Beta Versionen ist der beste RSS Reader endlich auch offiziell am Mac angekommen. Ab sofort kann Reeder im Mac App Store für 11 sFr. geladen werden.
Der RSS Reader des Schweizers Silvio Ricci unterstützt alle wichtigen Funktionen und besticht dabei durch ein einfaches und elegantes GUI:
★ Syncs with Google Reader.
★ Full Readability (readability.com) integration (see Preferences → General)
★ Customizable interface (see Preferences → Appearance)
★ Gestures (see Preferences → Gestures)
★ Customizable shortcuts (see Preferences → Shortcuts)

★ Services:
– Send to Instapaper, ReadItLater, Readability
– Save to Pinboard, Delicious, Zootool
– Post to Twitter
– Mail Link
– Open with Instapaper Mobilizer, Google Mobilizer
Für mich ist Reeder nicht nur auf der iOS Plattform der Feed Reader der Wahl, sondern inzwischen auch am Mac.