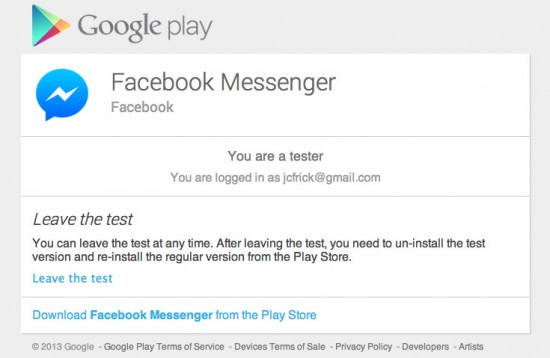 Facebook arbeitet fleissig an seinen mobilen Apps.
Es gibt ja schon länger die Möglichkeit die Facebook App als Beta Tester auszuprobieren. Nun weitet man das Programm auf den Facebook Messenger für Android aus.
Wer gerne neue Funktionen als erster testen möchte meldet sich bei der entsprechenden Google Group an:
Ready to start testing?

Follow these quick steps (after joining this Google Group):

1. Visit this link and click Become a Tester: http://bit.ly/1ce7FE5

2. Uninstall the Facebook Messenger app (instructions below)

3. Open the Play Store app and re-install Facebook Messenger by choosing Update or Install

4. Tell us what you think: Google Group

5. Visit help section for general troubleshooting: Messenger for Android Beta Program Help
Nachdem ihr die bestehende Messenger App deinstalliert habt könnt ihr dann im Google Play Store die Beta App runterladen. Markiert am besten gleich das Häkchen bei "Automatische Updates" denn Beta Apps werden meistens täglich aktualisiert.
WICHTIG: Beta heisst, dass noch nicht alles perfekt läuft. Es kann auch mal den einen oder anderen Absturz geben.
Viel Spass beim ausprobieren (via Caschy)
[ad#Google]