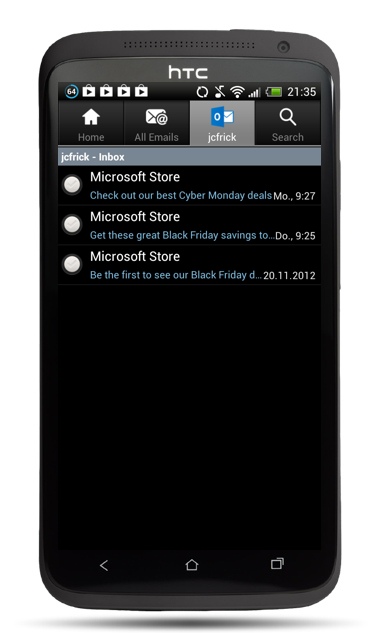 Outlook.com hiess früher Hotmail.com und war bekannt als Spam Schleuder. Inzwischen wurde der Dienst von Microsoft komplett überarbeitet und ist wieder erfolgreich.
So meldet Microsoft heute man habe 25 Millionen aktive Benutzer und publiziert verschiedene Studien welche die Zufriedenheit dieser Leute zeigen sollen.
Ausserdem wurden einige neue Funktionen wie neue Keyboard Shortcuts und eine Konversationsansicht eingebaut, welche vor allem Benutzer von Googles Gmail zum Microsoft Dienst locken sollen.
Spannender ist aber die Nachricht man habe eine Android App für Outlook.com veröffentlicht. Ja ihr habt richtig gelesen, die Entwickler in Redmond haben sich gedacht, dass man mit Android ja eh nicht sauber auf eine Microsoft Umgebung connecten kann und drum die App programmiert:
Many of us use Outlook.com as much on our phones as we do on a PC. For devices like Windows Phone and iPhone that support Exchange ActiveSync, you have built-in support for Outlook.com – no download necessary. Android devices aren't consistent in their native support for Exchange ActiveSync, so starting today you can install an Outlook.com for Android on your mobile phone. The new app is free and works on all Android 2.x devices and higher.
Nette Idee von Microsoft aber leider waren die GUI Designer wohl gerade im Urlaub als diese App entstanden ist. Sie kann was sie verspricht: Die zeigt euere Outlook.com Inhalte an.
Leider aber sieht das ganze nach einem dunkle 90er Jahre MS-DOS Tool aus. Wer nicht unbedingt muss wird wohl einen grossen Bogen um die App machen. Schliesslich ist das Webinterface von Outlook.com auch auf einem Smartphone gut zu gebrauchen.
[ad#Google_Adsense_Media]