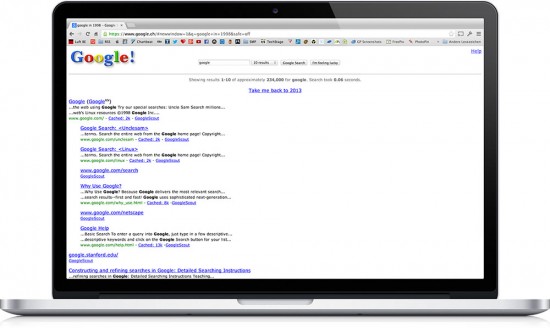 Google feierte am Freitag seinen 15. Geburtstag.
Und Google wäre nicht Google wenn man sich nicht etwas hübsches dazu ausgedacht hätte. Der eigene Doodle war ja schon cool aber man hat in der Suche auch eine kleines Easter Egg eingebaut.
Ein "Easter Egg" bezeichnet einen eingebauten Trick um eine Besonderheit entdecken zu können.
Wenn ihr in der Google Suche Google in 1998 eingebt wechselt die Seite und sieht so aus wie 1998 als die Google Suche online ging.
Google is 15 years old this month. This easter egg reveals how Google used to look: https://t.co/CvLOJub7zA

— Matt Cutts (@mattcutts) September 26, 2013
Sieht natürlich etwas altmodisch aus, funktioniert aber sonst tadellos mit den heutigem Suchresultaten.
Wer genug vom Retro Look hat findet ganz oben einen Link "take me back to 2013" der euch wieder ins aktuelle Jahr katapultiert.
[ad#Google]